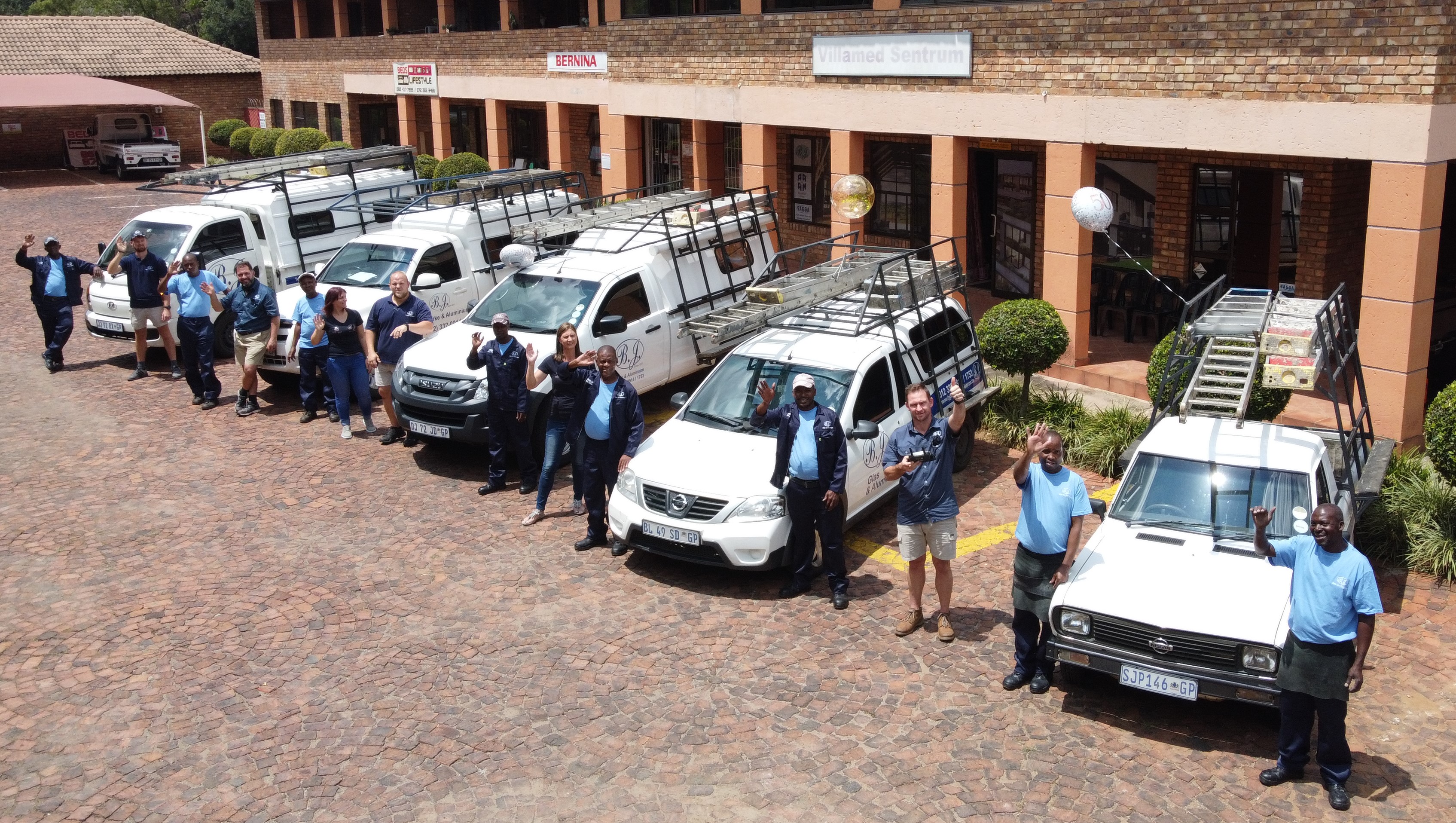 BJ Glass & Aluminium was started in January 1971 by Mr Barend Jakobus Smit, from there the name BJ Glass & Aluminium. What started out as a small but passionate business that was run by him and his wife, grew every day. Today BJ Glass & Aluminium is a proud owner managed business. We are also proud to announce that we are AAAMSA registered Fenestration Contractors and SAGGA registered. Our aluminium products were tested in 2010 at the CSIR for atmospheric pressure, wind loads and water penetration, where our aluminium products passed every test at a A2 rating.

The company's main business is the supply and manufacturing of all Sliding Folding Aluminium Doors, Single Entrance Aluminium Doors, Double Entrance Aluminium Doors, Sliding Aluminium Patio Doors, Pivot Entrance Aluminium Doors, All Top Hung Aluminium Windows, Side Hung Aluminium Windows, Fixed Aluminium Windows, Horizontal Sliding Aluminium Windows, Aluminium Louvre Windows. Showers - Aluminium Framed Shower Doors & Fixed Side Panels, Frameless Shower Doors & Fixed Frameless Shower Panels. All Building Glass to new and existing homes, Glass Table Tops, Bathroom Mirrors, Obscure Bathroom Glass and Window Putty.

Our glass & aluminium services:

Aluminium Installations:
All aluminium installations for your new or existing home. Installation of all aluminium doors, windows & showers doors. All our aluminium products are wrapped in `n durable 100 micron plastic to withstand the strains of the building process.
Glass Repairs
All damaged or broken glass repairs to wooden window frames, steel window frames and aluminium window frames.

New Glass Installations
Installation of any glass to new wooden window and door frames, and to new steel window and door frames.

Mirror Installations
All your mirror installation needs. We can install mirrors to tiled walls, plastered & painted walls as well as drywalls.

Shower Installations
We supply and install all framed shower doors & fixed panels and frameless shower doors & fixed panels.

Aluminium products spares
We supply most aluminium doors and aluminium window spares, like handles, rollers, locks, hinges and stays. We also stock framed shower door rollers and tri-matic shower door rollers.
Glass cut to size
Your custom glass size cut to your measurements while you wait. 3mm Clear Glass, 4mm Clear Glass, 5mm Clear Glass and 6mm Clear Glass in stock. We also stock 4mm Grey and Bronze Glass as well as 6mm Grey and Bronze Glass. We can also polish the edges of the glass for your table top.
Safety Glass
6.38mm PVB clear safety glass in stock and cut while you wait. Also in stock we have 6.38mm PVB Bronze, Grey and White Translucent safety glass.
Obscured Bathroom Glass
4mm thick obscure glass, many different patterns to choose from. Also cut to size while you wait.
Picture Frame Glass
We can fix your broken picture frame glass for you. 2mm non-reflect and 2mm clear picture frame glass kept in stock and cut to any size. We will make your family portrait like new again.
Glass and Mirror Bevelling
Glass and mirror bevelling. 25mm edged bevelling.